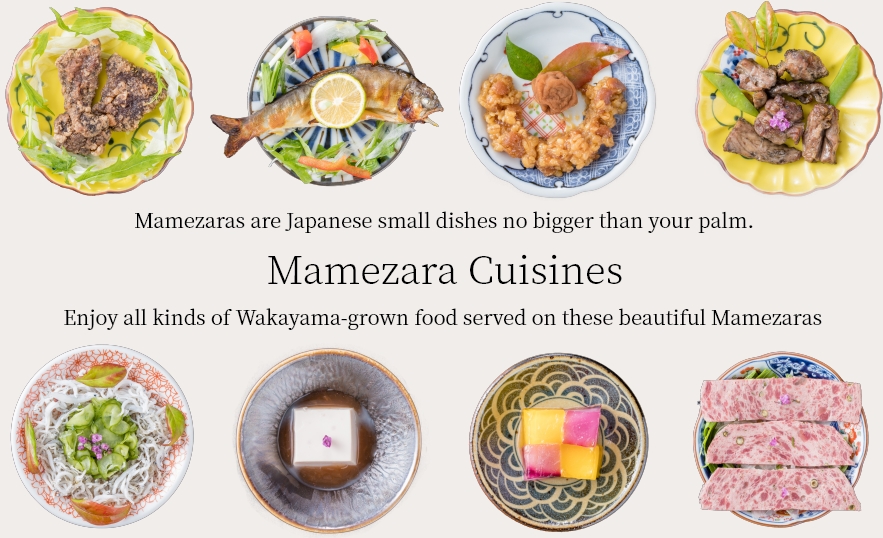 Wakayama — the Land of Woods.
The Land that has been loved by the Gods, the Land full of green and fertile.
Here we have everything you can imagine … the Ocean, the Mountains and Rivers,
along with all the farm products, seafood and stock farm products.
We want you to eat, taste and experience everything we have here.
All over Wakayama, from Koyaguchi to Nachi-katsuura, we offer you the best quality food guaranteed to make you feel delighted.
Cuisine "Full of Wakayama" — Kishu KUE Nabe
Wakayama-zukushi Kishu KUE Nabe
All kinds of Wakayama-grown food served in beautiful Mamezaras
Wakayama-grown Fruits in Arrowroot Jelly – from Kouyagichi Town
Sesame Tofu – from Katsragi Town
Boiled Whitebait and Kishu duck – from Yuasa Town
Kinzanji-Miso – from Gobo City
Wind-dried Sweetfish – from Hidakagawa Town
Umeboshi (pickled plum) – from Minabe Town
Wild Game Ham – from Kozagawa Town
Deep-fried Whale Meat – from Taiji Town
Kishu Plum Noodles
Fresh Tuna and Kishu Sea Bream Sashimi
Home-grown Rice KINUMUSUME
※All of our seafood is from Shirahama Town, Kushimoto Town and Nachikatsuura Town.
¥3,500(tax not included)
※If you wish to change the hotpot to Kumano Beef Sukiyaki, the price will be ¥3,000. The Ume (plum) Pork hotpot is ¥2,000.
More Banquet Dishes are available! We hope you fully enjoy our specialties.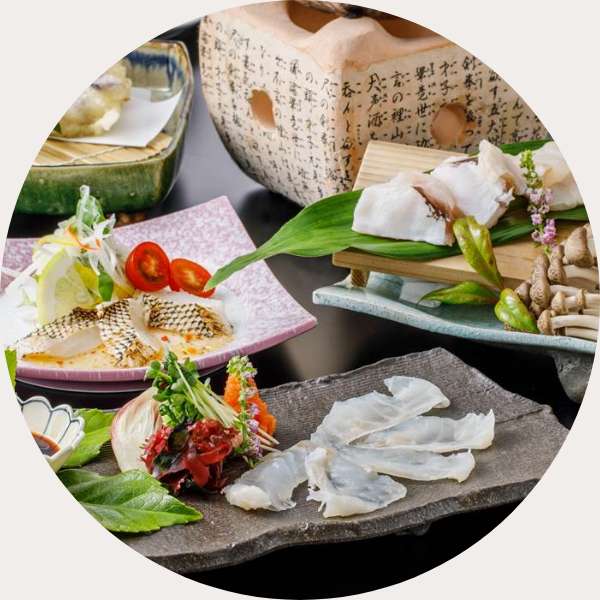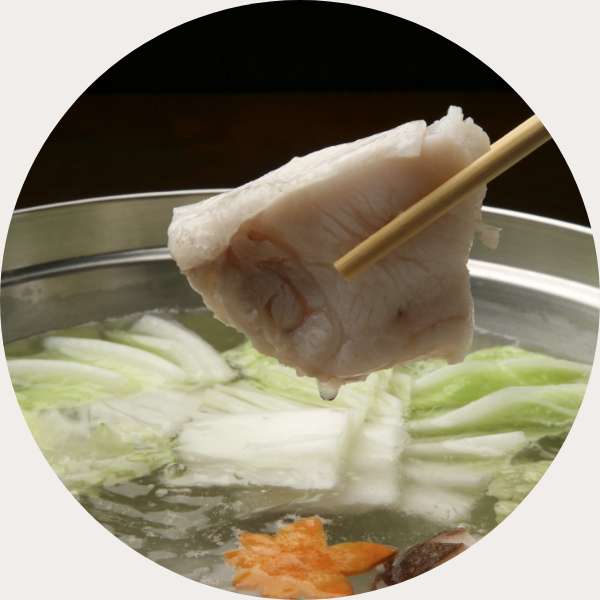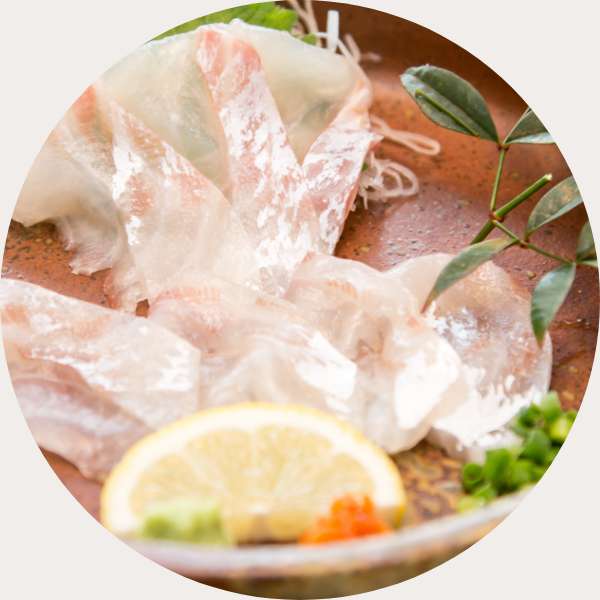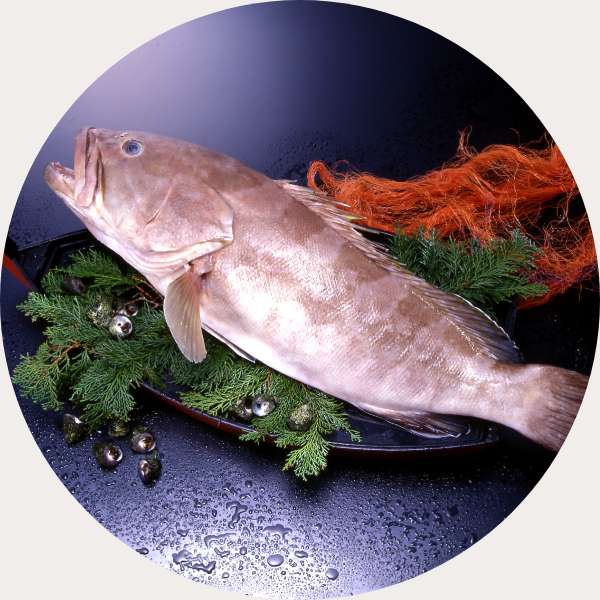 High Quality
"Kishu Genuine KUE"
Cuisine
The "Wild-Caught Genuine Kishu KUE" is known to be a high-quality fish
which is a kind of a sea bass and lives south of the middle part of Honshu.
A full-grown fish can be about 1m long and weigh from 30 to 50 kilograms.
The fish living among the Kuroshio Current shore are called "Kishu Genuine KUE".
They are known to be a difficult catch; therefore, they are highly priced and called the phantom fish.
In contrast to its grotesque appearance, the white meat with plenty of fat has a deep and delicate flavor.
The skin and bony parts of the fish contain rich gelatin is said to be unforgettable once you've eaten it.
KUEs are Not Rare Anymore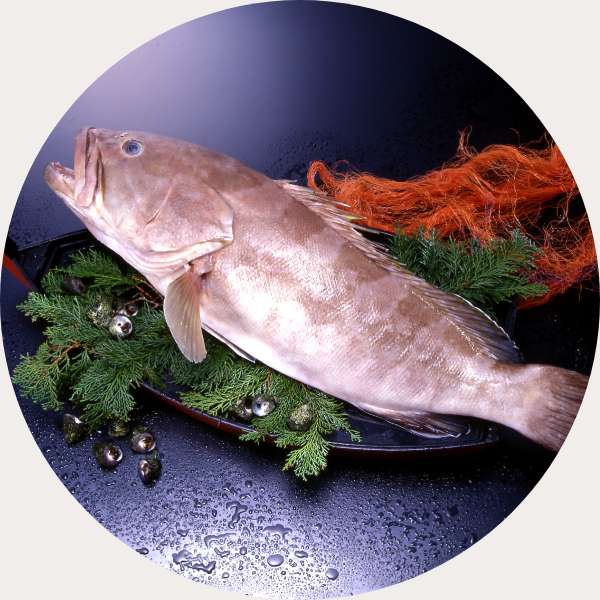 Now it's possible to get a stable supply!
KUEs are enormous fish that swim grandly in the rugged shore and very hard to catch. Thus, they are called the "Phantom Fish". Today, the development of a cultivation technology from hatching to raising KUE made it possible for a stable production.
※At our restaurant ANCHIN, we use the "Kishu Genuine KUE" for our ¥9,000 large hotpot. Other dishes will be served with cultured KUE
Kishu KUE Nabe Banquet Cuisine
Kishu KUE Nabe Kaiseki
KUE Nabe (Hotpot)
KUE Sashimi
Deep-fried KUE Marinated in Spicy Sauce
KUE and Vegetable Tempura
KUE Chawan-mushi (savory steamed egg-custard)
KUE Carpaccio
Kishu Kinzanji-miso (seasoned miso), Umeboshi (pickled plum)
Rice and Porridge
Seasonal Fruits
¥4,500 (tax not included)
There are more KUE Cuisines to enjoy. Why not try the Phantom Fish?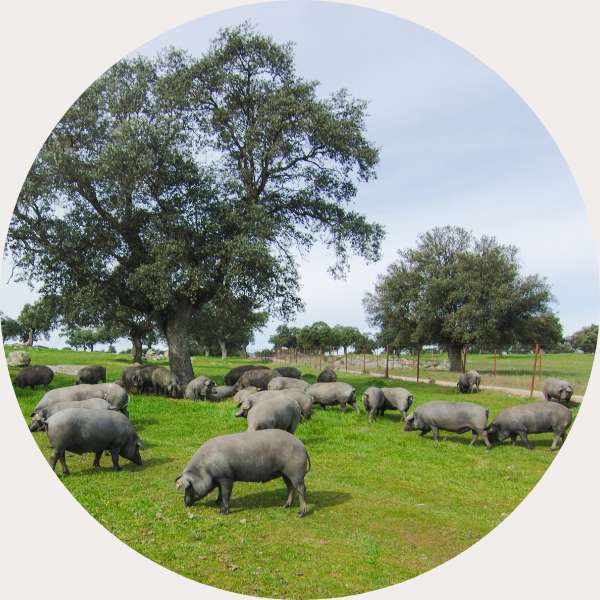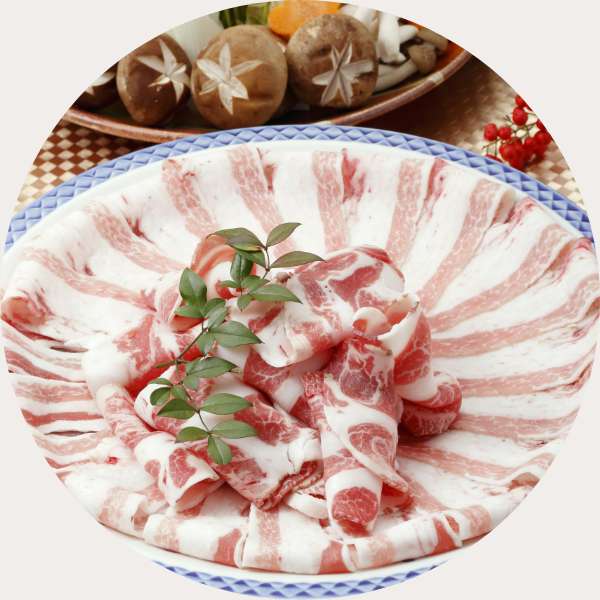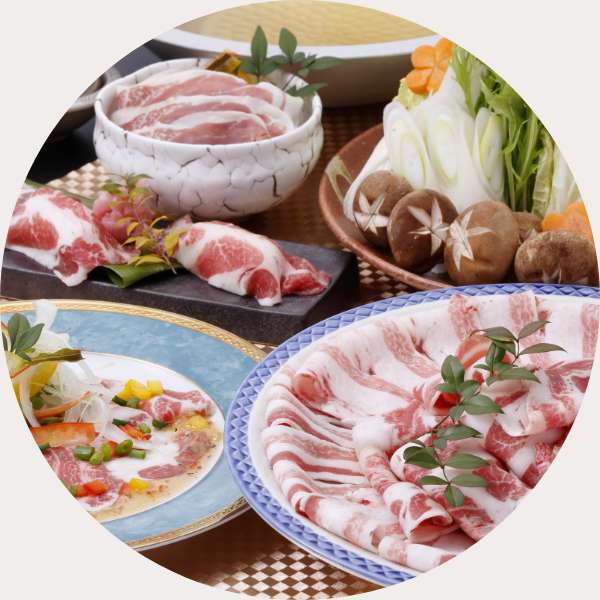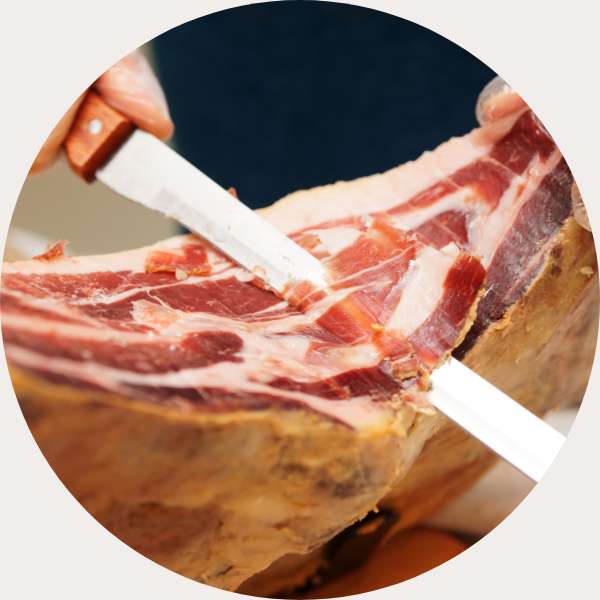 Iberian Pork
Iberian pork is a pork breed certified by the government of Spain.
Its meat is known to be tender and its fat is silky with sweetness. Iberian pork is not only delicious but healthy, with its fat containing oleic acid that comes from the acorns they feed on.
We only use the finest grade of Iberian Pork, "De Bellota"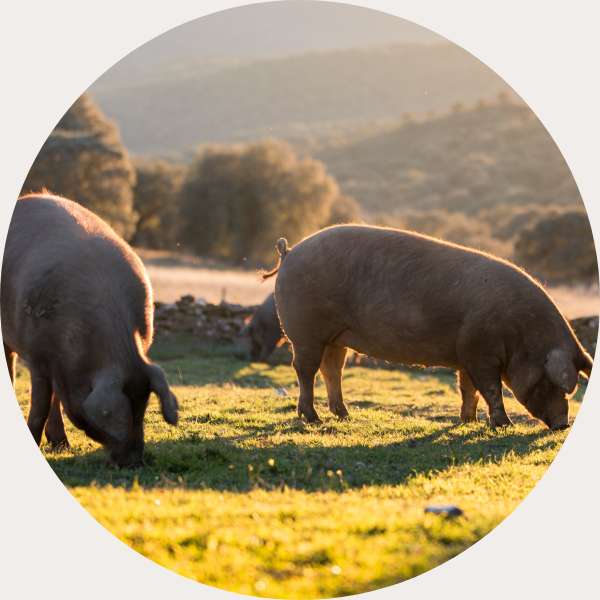 Iberian pork is known to be fed acorns, but actually there are three kinds of Iberian pork.
The finest grade is "De Bellota" which are put out into an acorn forest for about two weeks before being shipped. Having been released from the stress, they feed on a lot of acorns and herbs, so that they exceed the health and weight standard set by the government. Only the ones that pass a certain quality level of its meat are shipped as "De Bellota".
The next best grade is called "Re Cebo" which are also put out in the acorn forest, but they are the ones that did not quite meet the quality standard. Some of them that had not reached the weight standard were fed grain feed.
The last grade is called "Cebo" and these are not fed with acorns. They were on a grain diet, but nonetheless, they are also Iberian pork.
At ANCHIN, we only use the finest grade, "De Bellota
The finest of the finest, "Jamon Iberico" from the village of Jabugo

Iberian Pigs are bred in Spain. The black pig has black fur and black hooves.
They are a near-natural breed, so they are pastured in the nature. For the finishing process, they are let out into the woods and eat the Spanish acorns called "bellota", so their fat becomes smoother and richer. The stress-free, free-ranged pigs fed with fine acorns put on marvelously tender fat that melts in your mouth.
We provide only the finest quality, "Jamon Iberico" from the village of Jabugo at our restaurant.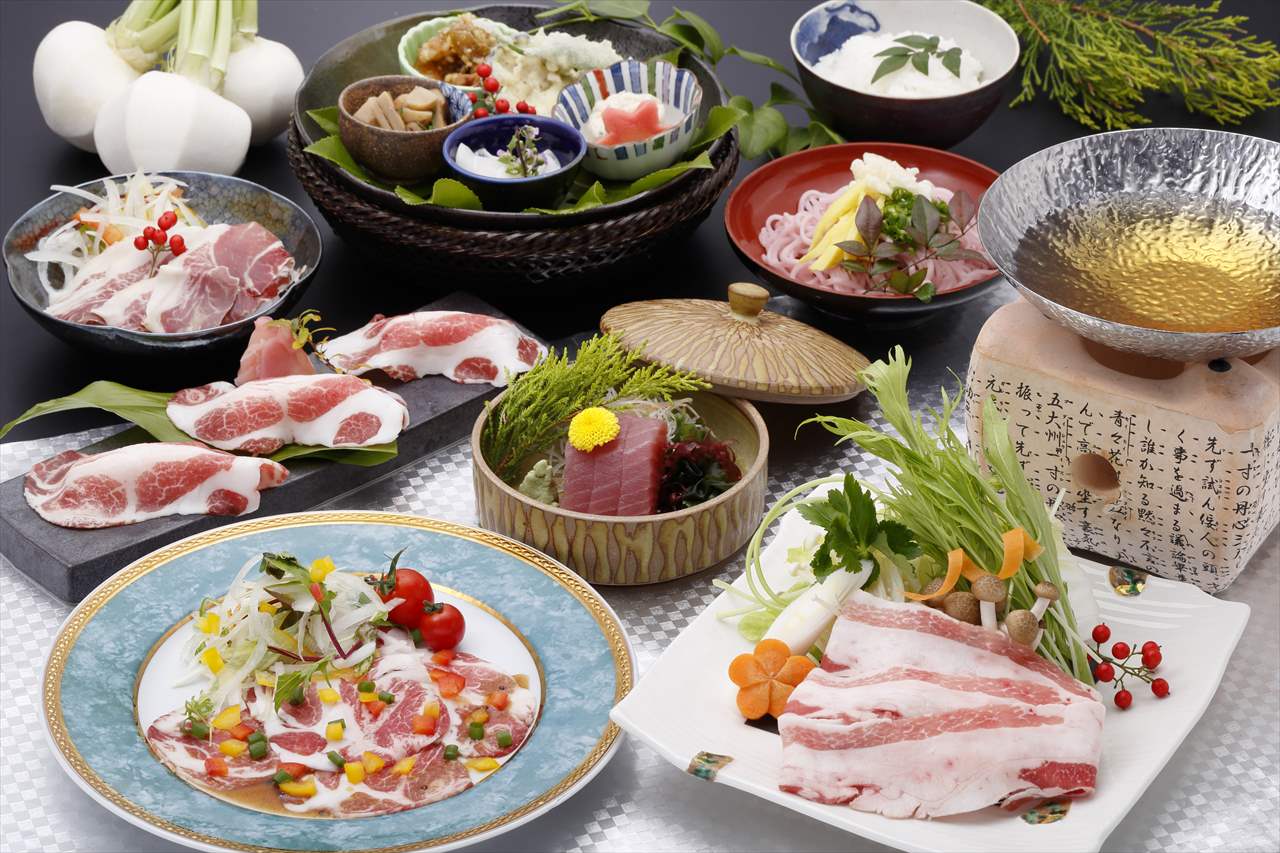 Bellota Full-course Meal with small Hotpot
Bellota Konabe-tsuki Full-course
Iberian Pork Small Hotpot
Iberian Pork Carpaccio
Iberian Pork Sushi
Iberian Pork Ham
Assorted Dishes on a Basket
Kishu Vegetable Tempura・Kishu Plum Tofu
Kishu Whitebait with Dressing・Kishu Plum-Flavored Hijiki
Plum-Flavored Lightly-Stewed Scallops・Kishu Kinzanji-miso (seasoned miso), Umeboshi (pickled plum)
Fresh Tuna Sashimi
Chicken Salad dressed with Plums
Kishu Plum Noodles
Rice, Miso-Soup
¥4,800 (tax not included)
We offer other Iberian pork menus from large-sized hotpots to full-course menus.
※Please note that the contents may vary according to the day's stock. The serving dishes may vary, too.